[NEW GADGET] Let's just say Samsung realized that Galaxy Spica is fighting the "Mid-range Android Handset" war against HTC alone. Not only it is outnumbered, it is also out-styled by its Taiwanese competitor. Though Samsung took its time, but its better than never. And unsurprisingly the Korean manufacturer kept its game to the name of "GALAXY", by introducing GALAXY 3.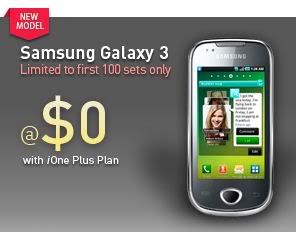 Whatever happened to GALAXY 1 and 2? Could Galaxy Spica and Galaxy S be Galaxy 1 and 2 respectively? It just kind of bother me when manufacturers decides to name their products in a way you just have to wonder what happened to its "older brothers" whom were never introduced to the market in similar names.
But you will still be delighted to know that "The Curious Case of Samsung Galaxy 3" is on sale for nothing out of your wallet with a 2 year subscription plan. While the price is only limited to the first 100 handsets, it is an early sign that Android phones will be sold as "zero dollars" phones at launch. 
Galaxy 3 packs in decent hardware such as a 667MHz processor which is comparable to the likes of Motorola Milestone and HTC Legend. A 3.2 inch screen cannot "wow" anyone but is probably just about the right size for a full screen phone and again very similar to phones selling at above S$200. Here some highlights you might want to know:
Android 2.1
667MHz (QSC6270 + S.LSI6442) Processor
Flash Lite 3.1
113.5 x 55 x 12.4mm / 113g
3.2 inch with resolution at 240 x 400 and 16m colours WQVGA TFT
1500mAh battery
Touch Wiz Interface over lying in stock Android's interface
3MP camera with Auto Focus
170MB of internal memory with MicroSD slot
Using the Motorola Dext for 5 months already now, there is something that I notice in the lower end Android phones which are somewhat less popular in the consumer market. So there are actually less resources online for these phones since hackers and advance Android users are probably more interested in coding and preparing ROMs or guides for more popular phones. In short, there will be lack of custom ROMs and guides for rooting your phone. 
Official Website: Samsung Singapore
On Sale: SingTel Shop