Introduction
By now the marketing campaign of LG Eigen GM730 has probably past its peak. Whether is it the traditional media such as TV, national papers or the new media such as blogs, Eigen is everywhere. A much stronger effort than LG Arena, there is a lot to anticipate from this LG product.
At S$468 with a 2 year Singtel plan, it will probably belong to the upper band in terms of price. I mean Omina 2 (Link) and iPhone are higher but not by much. But LG Eigen is not directly comparable to those two. Simply because it is much smaller in terms of size (it is thicker but has a smaller surface area).
Similar touchscreen phones in terms of size include LG's very own LG Arena, Samsung Preston, Samsung S8003 Jet and Samsung F480.
The major selling point of Eigen is its LG-developed S-Class interface. This new interface will overlay that of the Windows Mobile 6.1 and gives user a better menu navigation as well as graphics.
Specifications
528MHZ msm7201A from Qualcomm
256ROM/128 RAM
EDGE, GPRS, GSM, HSDPA (3G)
Bluetooth v2.0 with A2DP
WiFi
3" QVGA Display with 65,000 colours
Micro SD (up till 16GB) – So that should be SDHC
Camera: 5 Mega pixels, 2592x1944 pixels with autofocus and video-recording
FM Radio
Pocket Office
Appearance

The Eigen is glossy. Very glossy. But not to the extend of fingerprint magnet. The back plate is actually not glossy, instead it is of the plastic material.
The simplistic design includes one optical button (touch and scroll sensitive) and two touch buttons (Call and Close) on the phone itself. There are only three buttons by the side of Eigen, the volume controller, camera and keylock/On/Off switch.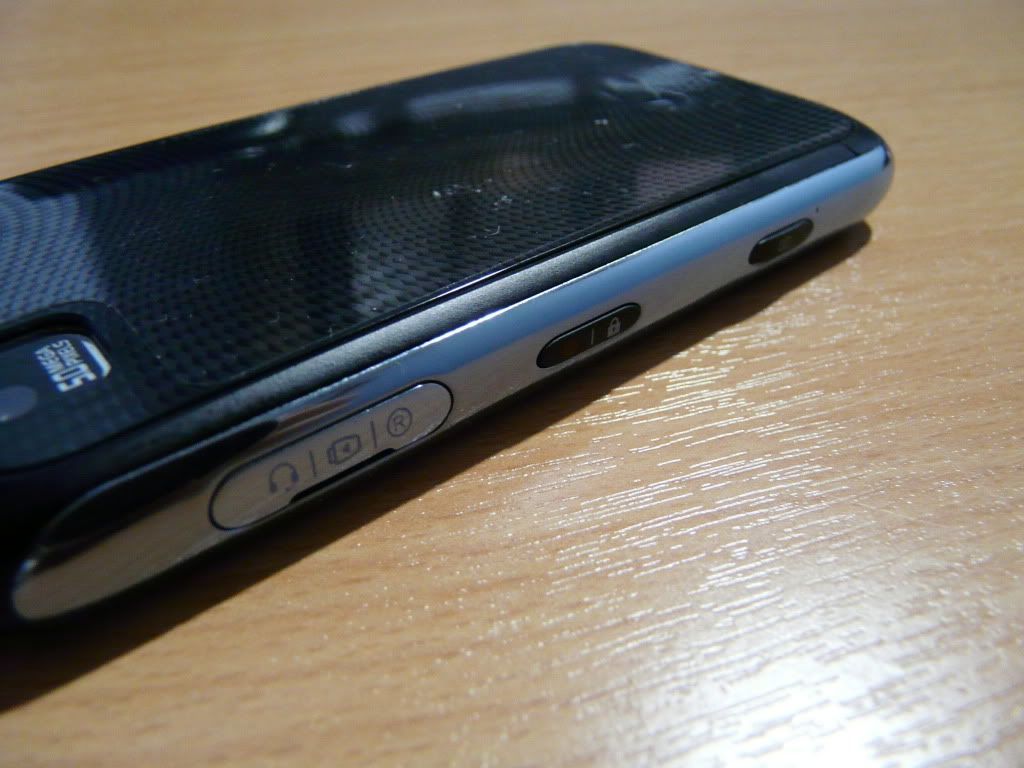 The real selling point of LG, at least from my point of view, is the small form factor. Eigen is actually a very compact and relatively small compared to any other full touch screen phones in the market (as I say earlier, smaller than iPhone and Omina 2). Thus adding to its touch of elegance. Indeed, Eigen has a simplistic classy design that should attract most ladies.
However, on the flip side, it meant that guys might not like the smallness. But more importantly, I find that the screen, at 3", might be a tab too small for usage without the stylus, which I will talk about more in the later part.
LCD Display and S-Class Interface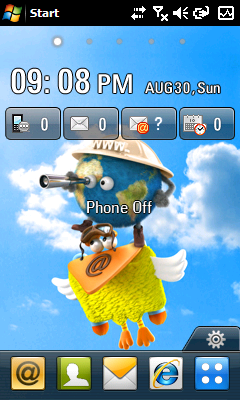 The new S-Class User Interface (UI) has 'pages' like iPod Touch/iPhone (you might find that I refer to it a lot in this post). Basically, there are five pages; Home (above), Widget, Music and Picture, Favourite Contacts and Applications shortcuts. The overall user experience is quite fine except for a few issues that could potentially make LG Eigen a much better phone.
The size of the screen is actually something to consider. LG has a very vibrant and high contrast LCD display but yet the screen size is about 3". Not that its small, but it is relatively small compared to my iPod Touch which has a 3.5". And it has made it less impressive when viewing video.
Looking less impressive is a small issue, but the small screen actually makes it difficult to press certain on-screen buttons.
Generally, the S-Class interface is impressive. Its not slow, but neither is it the quickest I have seen. But the overall experience is quite like that of the iPhones or iTouch, maybe not as polished. But I can find nearly everything I need within 1 or 2 layers of the menus except for settings which is not part of the S-Class interface. The icons and menus in the S-Class interface are big enough for me to land my entire thumb but the same cannot be said for those of the setting menus.
For the setting menus, they still appear as in the Windows Mobile style making the issue of small screen is quite glaring. Fingernails have to be called into action rather than the entire finger. A common situation when using the phone is actually exiting a certain menu which requires a touch of the "cross" button on the top right hand corner (like a windows cross). But that particular "cross" is so small that I cant really hit it accurately most of the time. I usually takes about 2 or 3 tries to get it right.
I think LG has probably anticipated the problem, so it has included the optical button to operate as a trackpad (like that of the laptop), where you can bring up the cursor arrow. BUT! The cursor will only work in the window style menus. It will NOT appear in the S-Class Interface. In a way, it makes a lot of sense because is the windows style menus that is contains most of the icons that is really small.
Alternatively, if you are a stylus supporter, then this is absolutely of no issue because there one is bundled with LG Eigen (but the stylus has to be tied to the phone since there is no stylus slot).
The inconsistency of the menu is not that much of a problem in my opinion since its pretty clear when you will want to call up the cursor and when you would just press the buttons.
Speaking of the touch screen, sometimes I do find myself pressing a little harder in order for the phone to register my touch. This should be because LG used a resistive touchscreen for LG Eigen. (Unlike iPhone which uses a Projected capacitance touch). This is a matter more of a personal preference than which is better in my opinion.
The home screen shows nearly everything you want to know and you can slide the icons at the bottom to show more of the remaining icons to the right. Quite useful. The gear is actually the button to call up some of the settings, but when as you progress deeper into the menu hierarchy, you are more likely you see the Windows-style menu as i mention previously.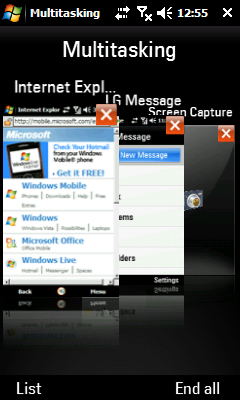 Lastly, there is also a multi-task page in the S-Class interface. It is also a surprise that it does not really lag too much when opening up several applications.
Other things you might want to know
The biggest complain from me is the proprietary port for charging, audio and USB storage. This is of course a common problem even though manufacturers are beginning to abandon it.
The key lock button is by the right side of the phone making it easy to key lock.
Call quality is good, no worries.
Battery life is pretty normal, I emptied it in about 2 days of usage with some calls, WiFi and videos.
Camera

The five mega-pixels camera is pretty good. But in the world where consumers (including most of my friends), is still asking the megapixel question (ie. "How many mega pixels ar?"), it is not something that is likely to impress most.
Features else, there is no flash, instead, LG has managed to include auto-focus, a feature most welcome, probably more than flash. And of course, the best way to judge a camera is surely the photos themselves.
(Link) – Shot in NTU
(Link) – Shot of my keyboard
(Link) – Night shot in Malaysia.
Applications
The other highlight of LG Eigen is the application store. Like that of the Apple store, LG Eigen can download applications via the LG Application store. (Link) But I thought that could be in another review itself since this one is getting too long!
Package Contents
Final words…
From my perspective, LG Eigen is one of the few phones that has such a strong and focus marketing campaign. While it is still has its own flaws, I think overall, it should provide a more than average user experience.
I will also see LG Eigen as a multimedia phone more than a business one. The major selling points will be its applications-compatibility and the brand new S-Class UI.
But one thing for sure, the dangling stylus is still one factor that can potentially push male customers away from it. And of course there is also the proprietary port.
And it really typifies LG Eigen. a generally stylish, good phone with several nagging issues.
Is LG Eigen GM730 the best Windows mobile touchscreen from LG. I think the answer is 99% affirmative.
Watch this space for the LG application review as well.
Thanks to Sadaf from XPR for the trial and retail sets!