It is exactly one year since the launch of LG Viewty. At its launch, LG's marketing team banked heavily on its 5 megapixels camera and the ability to take videos at 120fps. I know it is not "the phone" at the moment but but but...  Come on! Just see what I have to say!
5 MP, autofocus, secondary VGA videocall camera
Video @ VGA 30fps, QVGA up to 120fps, strobe flash
3" TFT Touchscreen, 256K Colours
HSDPA
103.5 x 54.4 x 14.8 mm / 112g
Bluetooth
FM Radio with RDS
Document Viewer
The Form Factor:
On the first look, Viewty might look bulky. But  it is really manageable. At the minimum it will fit your jeans' pocket. Then there is the opposite side of the display where it looks so much like a digital camera. Well, almost, as Viewty did not come with a lens cover. Fingerprint is not an issue with Viewty.
And Viewty's stylus actually look like a lipstick. The fact that it comes in pink only adds to the image of Viewty being a ladies' phone.
3" Touchscreen:
LG may have thought that " since we have bundled a stylus, let's make the screen less sensitive" Hence, the screen is really not very sensitive when you use your fingers to operate it. In short, you need to use a little more force than when you use a stylus.
One incident that typifies LG is when I had trouble scrolling the menu. There is a scroll-bar by the side of some menus while other menus  do not have a scroll-bar. In the end, I found out one has to hold-and-drag in order to scroll those menus without a scroll bar.      
Meanwhile, Viewty do have a few types of on screen keyboard for your usage. I would say one  would not be put off by the messaging system.
5MP Camera:
In comparison to other 5 megapixels camera-phone's images, Viewty would not lose the race. Neither will it win. Check out the sample photo I took with Viewty. Start-up time is pretty quick and the viewer fills up the entire display.
Autofocus is not too bad but it is still not comparable with a full-blown digital camera. Marco mode is not too disappointing. 
Viewty is outstanding when taking videos. Certainly one of the best I have seen. Seemingly smooth video. At 120fps it can even afford slow motion playback.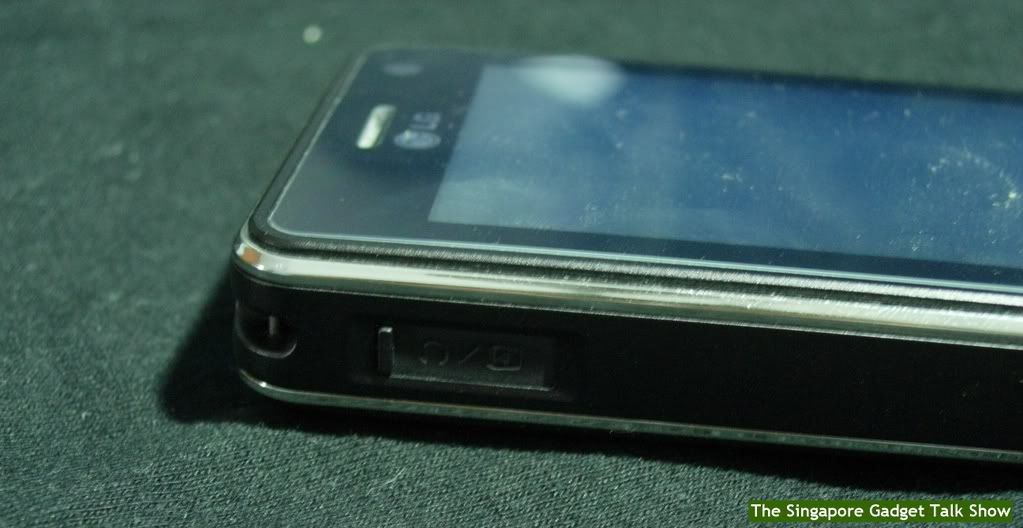 Applications:
The menus are all packed neatly. You get four tabs consisting of Multimedia, Settings etc.
There is pretty much limited stuff you can do with Viewty. It takes Java applications and that is about it. It packs standard features such as alarm, calender and a few games. Nothing too outstanding. Also, its document viewer cannot be upgraded to edit files. I think it is LG's own programme hence the limitation.
Micro SD Slot:
The Micro SD Slot deserves a special mention for being incredibly diffcult to take out the card. There is no spring to assist the whole process.

Conclusion:
Viewty is for the ladies. Viewty is for anyone those wants a pretty, non-fussy phone that takes excellent video. Nothing so bad that it will put off potential buyer, still a good option if you would like to own a 5 megapixels phone today if you still can find one today!