The fact that HTC stands for High Tech Computers never fails to amaze me. So it proves that having a stylo mylo name is not the most important part of a business. The product is.
Which brings me to "The Singapore Gadget Talk Show" first hands-on gadget review. For this very first piece, I found a friend who is a first time user of the Windows Mobile operating system. His previous is a Sony Ericsson. The gadget in question now is HTC Touch.  
Tri-band
Bluetooth, Wi-Fi, USB
2.8" Touchscreen TFT Display, 65K colours

Internal 256MB with MicroSD slot
2 Megapixels camera
TouchFLO Technology

Microsoft Windows Mobile 6.0 Professional
99.9 x 58 x 13.9mm, 112g
Comes with Pocket Office
How does it feel to have used HTC Touch, a Windows Mobile device, for the first time?
Overall, I think there is not a lot of differences if you are not using office application such as Outlook. The biggest difference would be the navigation. Using the phone as if it is a Windows PC took me some time to get used to it.
In fact the biggest difference is a normal user (one that only expects functions such as Bluetooth and audio player) would find a Windows Mobile device much more complicated and not as straightforward as he/she would expect of a mobilephone.
So what is so impressive about HTC Touch?
On the whole, it boasts style and stability as a Pocket PC. Nothing fantastic but then again these are the two most important qualities mobile phones should have.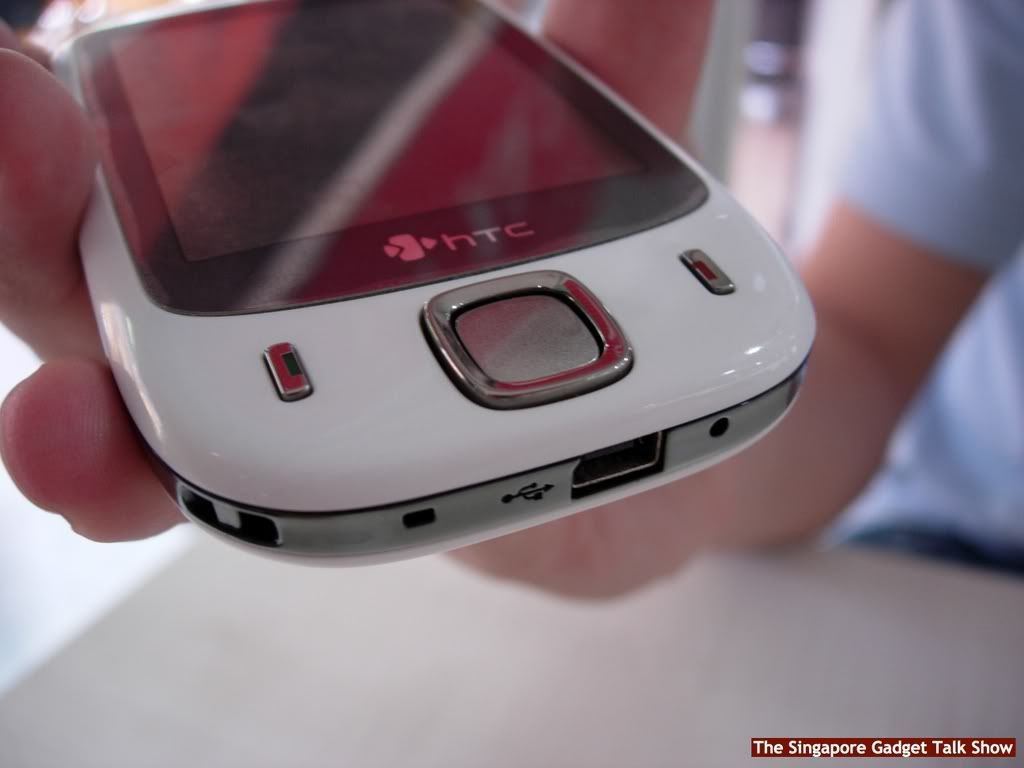 So with 2 months of usage, what are some issues that you would want to question the engineers about?
Under the sun is terrible. If you are on the street with our Singapore's glaring sun, you basically see nothing on the screen! Reading a SMS becomes a two-handed job when this happens as you would need to cover the screen to reduce the glare.
The other issue I think most would want to consider is the HTC's FLO technology which in my opinion does not speed up navigation. 
Also, there no 3G connection. What can I say? I had to make do with 2.5G and Wi-Fi.
Any comments in terms of the touch interface?
Its good. No multi-touch capability is cool with me. But using the stylus is recommended. Especially for guys. Some icons or links are too small for fingers.
Right. How about the image quality?
Nothing fantastic. Its a 2 mega-pixels camera anyway. And it does not have a lens cover. Videos disappoints but I don't use and don't care!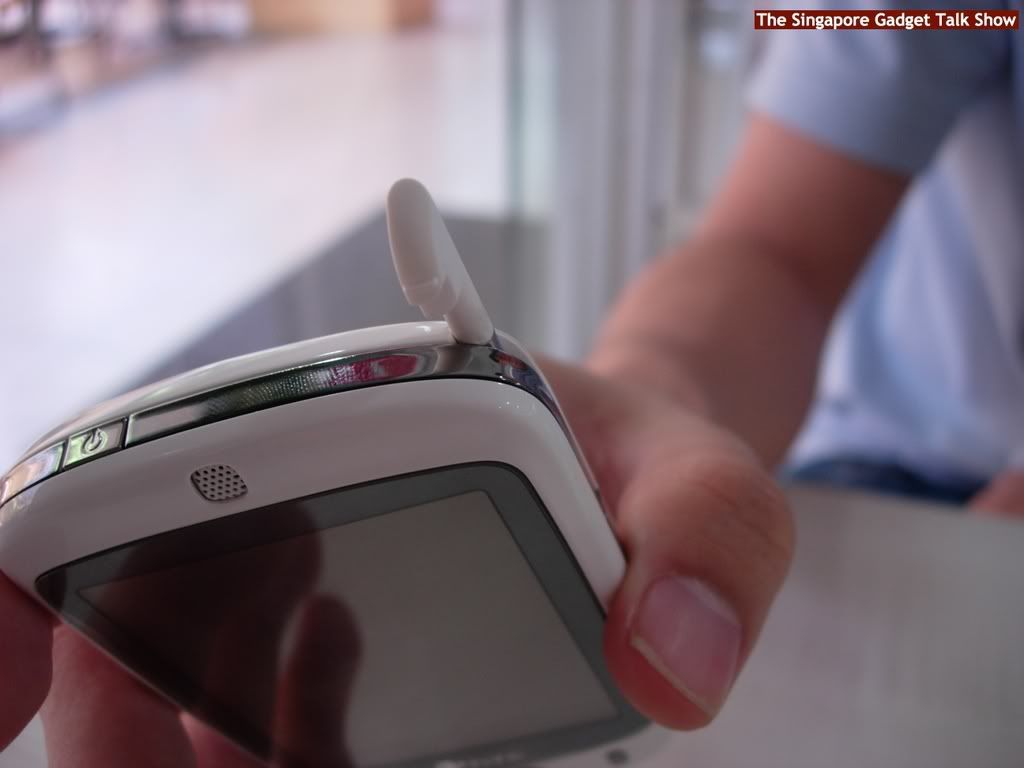 Battery life?
I on it 24 hours. Play games each day about 20 mins. Normal talk time. Last about 2 to 3 days depending on the talk time.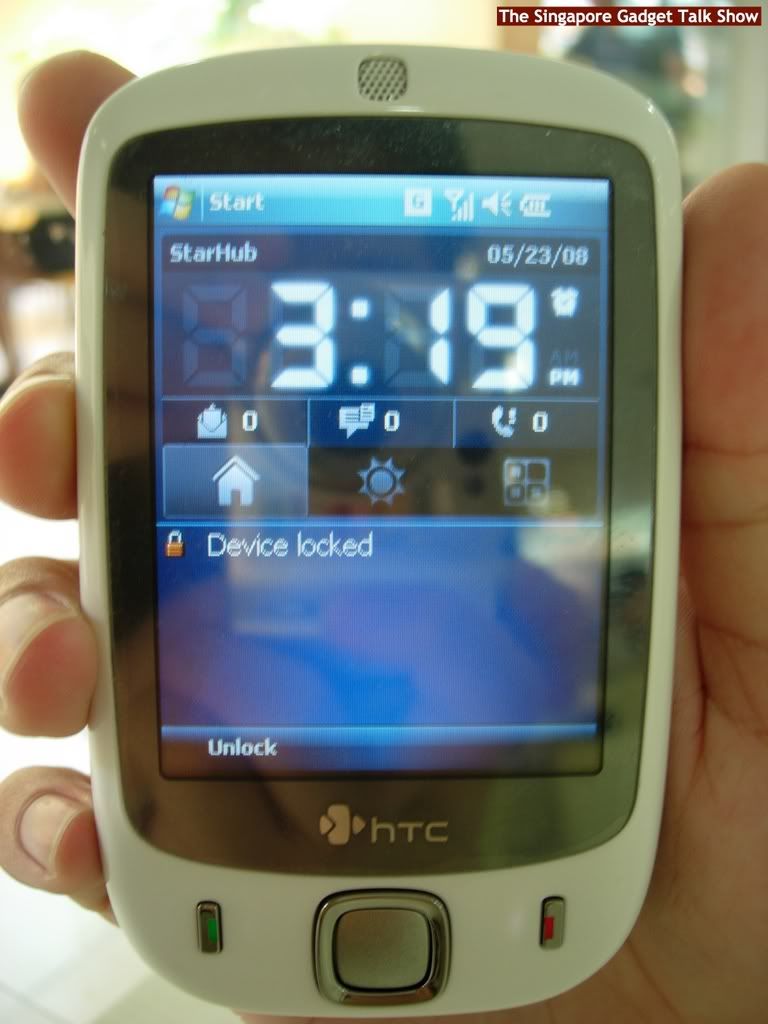 The large weather icon is rather eye-catching.
The weather function is very useful. The tricky part is where the preset connection is set to GPRS. Hence user may accidentally connect through the GPRS and hence, pay the cost.
One last word on your phone?
I still think its a beauty despite its being an old model. But of course it is surpassed by Touch Cruise and more recently the Diamond. Honestly, I might be even trading it in for the iPhone!