Samsung has released a flurry of phones latest. SGH-G800 arrived and i450 came to Singapore this week. i450 has something really different from the "normal" Samsung phone.
Symbian OS
Dual slide design with unique Touch wheel key
2.4" 256K TFT LCD

3.5G
3.5mm Standard Audio Jack
microSD (SDHC), 40MB Internal

2 megapixels, flash
Bluetooth


B&O ICEpower Audio Technology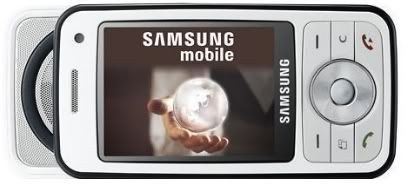 Samsung i450 is a music-based phone that comes with Symbian! Samsung and Symbian are not words that we put togther in the past. It is a good improvement from Samsung here, with a smartphone. Well, the interface is pretty much what you will see on the Nokia phones.
However, the dual slide design is actually highlight of the phone. This design is similiar to Nokia N95 but instead of buttons, when you slide the top part out, you will get a touch wheel instead. It will be largely used for the media player.
Samsung i450 also claim to have incorporated the
Bang & Olufsen ICEpower Audio Technology. In other word it boasts of superior sound quality. However, the review from GSMArena suggest otherwise.
Meanwhile, its microSD card slot is SDHC compatible. Samsung's specification sheet says i450 can support up a 8GB SDHC card.
Lastly, i450 has a 3.5mm audio port, following the recent trend of including this port so as to allow users to use their own earphones.
Summing up, Samsung i460 is a music phone with newer features that should impress some.
Samsung i450 is currently on sale with M1 (S$488 2 year contract) and Starhub (S$298 2 year contract). Not surprisely, there is a huge gap between the pricing of the two operators. And if you are considering buying without contract, the price should be between S$600 to S$688 during this intial release period.
Link